SCROLL DOWN FOR FREE BOOKS!
Save Money – Get Free Books & Deals IN YOUR FAVORITE GENRE!
BEST FREE KINDLE BOOK AND KINDLE DEAL FOR TODAY
$1 Awesome Hard Boiled & Cozy Mystery Box Set Deal With a Strong Female Lead and the Best Dog Imaginable!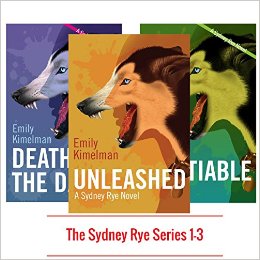 *SYDNEY RYE MYSTERY BOX SET (Books 1-3): A Vigilante Crime Mystery Series- Crime Suspense Thriller (Deal, Not Free) by Emily Kimelman. Price: $0.99. Genre: Mystery Box Set Deal of the Day, Sponsor, 18+, Hard Boiled Mystery, Cozy Mystery. Rated: 4.4 stars on 26 Reviews. 591 pages. ASIN: B00C44C6RU. Reviewers love it: This is a heartfelt mystery thriller about a heroine and her dog fighting for justice. The series has everything – a strong female lead, adventure, travel and the best dog imaginable! Awesome books! The author weaves a very interesting plot throughout the series and the heroine is an overachiever with fantastic deductive and physical abilities. I was so happy with the series! Keep them coming! The author is on the same level as Stephanie Plum!
*Love Stinks (Marissa Scott mysteries Book 2) by Jeffrey Marks. Price: Free. Genre: Cozy Mystery, Women Sleuths. Rated: 4.9 stars on 11 Reviews. 215 pages. ASIN: B00AC323ZA.
Want to save more Money? Of course, you do!
Save Money & Time – Get Deals You LOVE!
Save Money & Time – Get Coupons You Love!

Save Money & Time – Get Free Books IN YOUR FAVORITE GENRE!